Tin Oxide
Tin oxide is a white, inert and highly chemically and thermally stable material. Its inertness is the reason for its environmentally friendly and non-toxic profile. Here at Keeling & Walker, we use sophisticated processes and over 80 years of manufacturing experience to produce highly refined and tailored synthetic tin oxides.
Superlite
Our Superlite range includes the most versatile grades of tin oxide that we produce at Keeling & Walker. A consistent raw material quality and rigorous analytical control of its chemical and physical properties is the key to Superlite's high performance in various applications.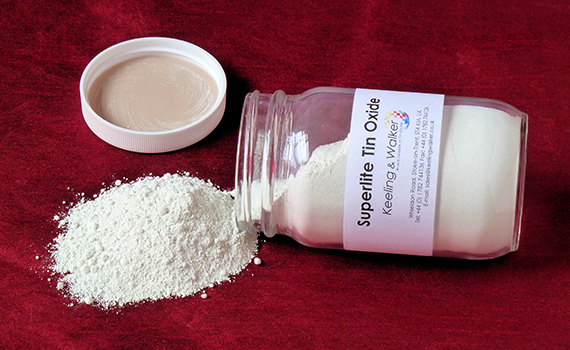 Applications of Superlite include:
Raw material for ceramic colour pigments
Opacifier for Glazes
Refining additive in the glass industry
Abrasives in polishing products
Formulation of electroceramics
Key Products:

| Tin Oxide Grade | Advantage |
| --- | --- |
| Superlite | Most versatile grade |
| Superlite C | Low Pb grade |
| SPG | Cost effective grade for ceramic pigments |
| SV5 | Free flowing powder grade |
Thermox
Thermox tin oxide grades are manufactured by a unique process proprietary to Keeling & Walker.
With Thermox RL, Keeling & Walker offers the finest thermal grade of tin oxide on the market.
Thermox tin oxides show superior performance results in sintering processes.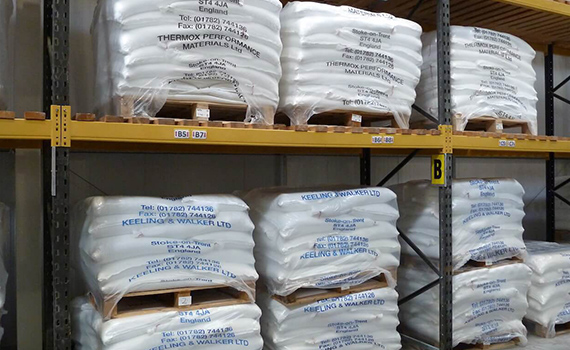 Applications of Thermox grades include:
Electrodes for LCD glass manufacturing
Glass Refining Additives
Friction Materials, brake pads
Electrical contact materials
Ceramic colour pigments
Key Products:

| Thermox Grades | Advantage |
| --- | --- |
| VS | Excellent sintering properties |
| VN | Excellent sintering properties |
| EFGE | Multipurpose application |
| RL | D50 = 0,2 µm, finest grade |
High Purity Tin Oxides
High-tech applications are often only viable if raw materials with specific high purity levels are available.
Ultrathin metal or oxide layers needed in the electronics and semiconductor industry are made via evaporation or sputtering methods. High purity raw materials are the common basis for these processes and enable the formation of defect-free thin films with the required electrical or optical properties.
Here at Keeling & Walker, we provide high purity tin oxides with a minimum purity of 99.99%. We can also provide tin oxide with specific limits for individual trace elements. We offer high purity materials based on thermal oxidation, as well as from wet chemical processes.
Thermox RL-HP offers a small particle size and a uniform and narrow particle size distribution, with excellent sintering properties to allow highly dense and stable target materials to be manufactured.
For radiochemical applications, high purity alphastannic acid (HPASA), as a largely amorphous tin oxide, offers high ion-exchange capacity for specific radionuclides, a well-defined particle size distribution and is manufactured in an environment suitable for pharmaceutical use.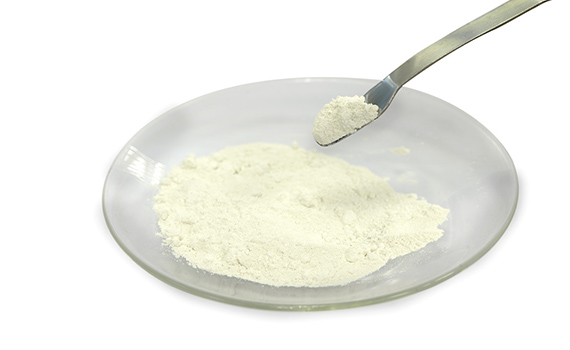 Applications of High Purity grades include:
Laser Glass manufacturing
Glass Refining Additive for low expansion Glass
Sputtering Target materials
Advanced Battery materials
Medical and Cosmetic applications
Key Products:

| Tin Oxide Grades | Advantage |
| --- | --- |
| Thermox RL-HP | Highest purity and smallest uniform particle size distribution |
| HPMSA | 200 m2/g BET surface area |
| HPTO | Chemically precipitated with high bulk density |
| HPASA | Amorphous material for medical application |
Specialty Tin Oxides
We will research and develop Tin Oxide properties to produce you a high-quality component to your specific application.
Tailoring the properties of tin oxides to match the requirements of the diverse applications of our customers is one of our strengths here at Keeling & Walker.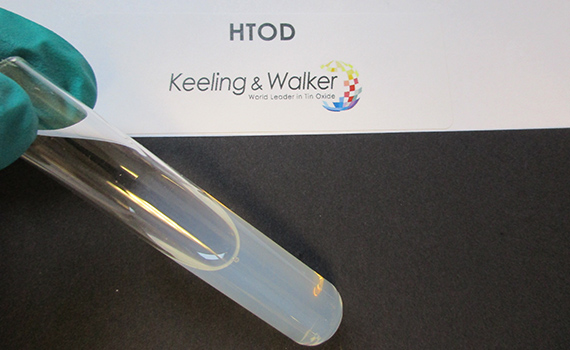 Whether that may be a material with a high BET surface area, high reactivity for use in catalyst applications, or the opposite in electrical contact materials, nano-dispersions for coatings which modify refractive index, or tailored materials for gas sensor applications, we can offer a product to suit your needs.
If you can´t find what you are looking for, then please challenge us! We are always open for co-operations.
Applications of Specialty Oxide Grades include:
Friction materials, brake Pads
Electrical contact materials
Coatings with adjusted refractive indices
Coatings with high abrasion resistance
Coatings for gas sensors
Key Products:

| Tin Oxide Grades | Advantage |
| --- | --- |
| AMSOL | Nanodispersion of Tin Oxide in water |
| CVS 6 | D50 = 6 µm for electrical contact application |
| CS grades | Special tailor made products for electrical contact materials with very high stability |
| PFO150 | extra coarse particles: 50% > 75 µm |
Stannic Acids
Stannic Acids are hydrated forms of Tin Oxides matching the general formula SnO2 x H2O, also referred to as Metastannic Acids.
They are manufactured by a chemical process, purified, and dried at low temperatures. The manufacturing process produces tin oxide particles with a large number of hydroxyl groups on the surface, which are responsible for the remarkable reactivity of stannic acid. Further modification enables tin oxides with tailored surface areas to be generated.
The higher reactivity of metastannic acids, when compared to tin oxides made via the thermal route, opens a pathway to numerous applications. If used for ceramic colour pigments, intense colour shades may be achieved and it is possible to reduce the number of firing cycles.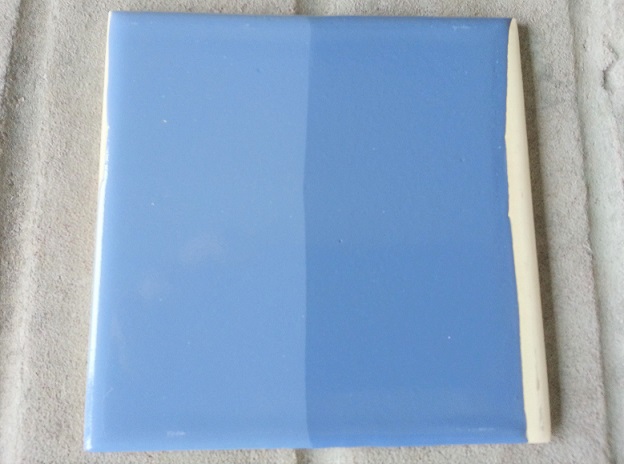 Doping the porous structure of metastannic acid with precious metals can produce materials for use in sensor applications. These materials are suitable for the detection of different gases for environmental and air quality control. Similar processes with other metal oxides can generate catalysts for petrochemical processes.
Applications of Stannic Acid Grades include:
Ceramic Colour Pigments
Catalyst Carrier material
Advanced Battery materials
Key Products:

| Tin Oxide Grades | Advantage |
| --- | --- |
| Metastannic Acid | 200 m2/g BET surface area and high reactivity |
| HSATO | 35 m2/g BET for catalyst application |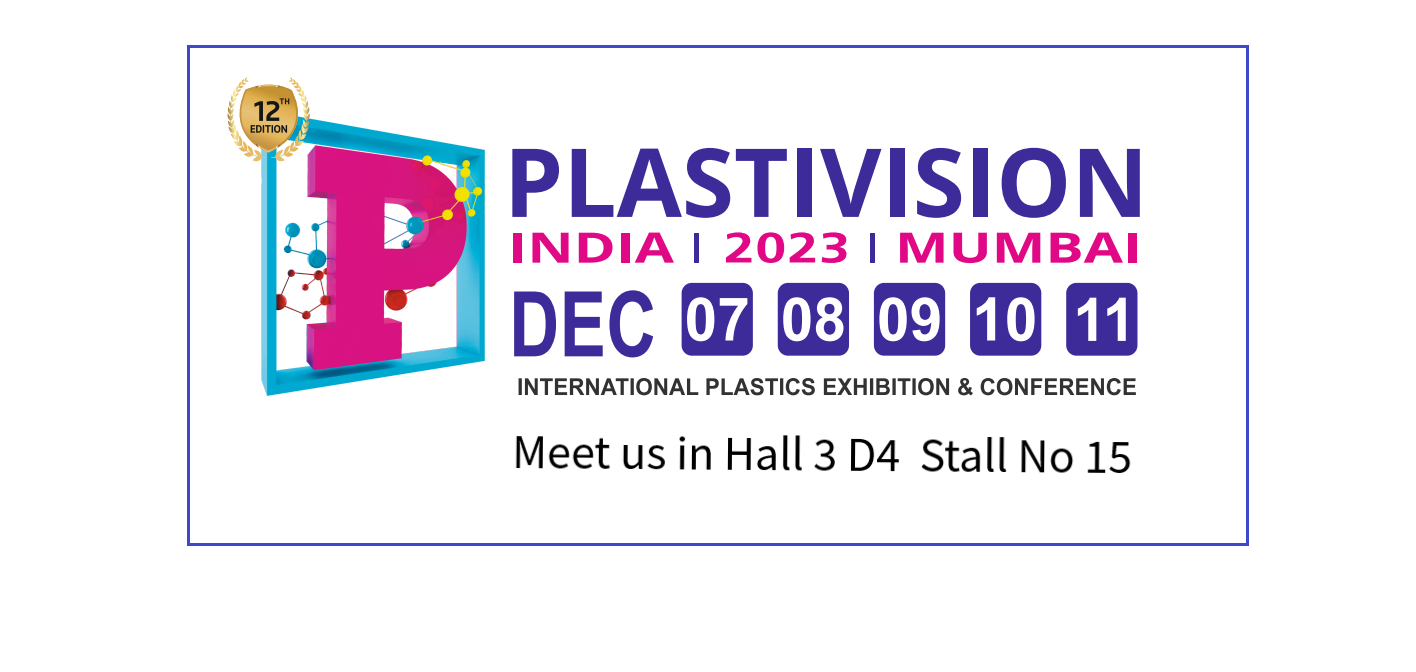 After making a debut in 2020 it is time to head to India again to meet and see our partners in India at the Plastivision exhibition in Mumbai
Read more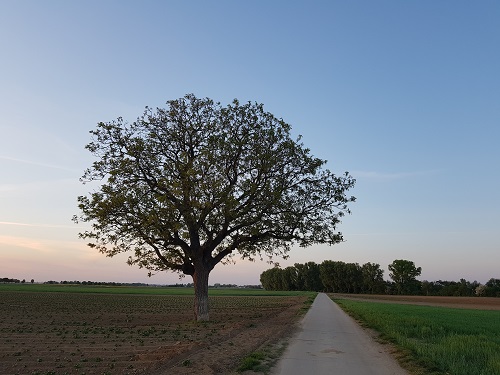 Our products are manufactured to the ISO 9001 Quality Assurance Standard. Learn about Keeling and Walker's commitment to quality.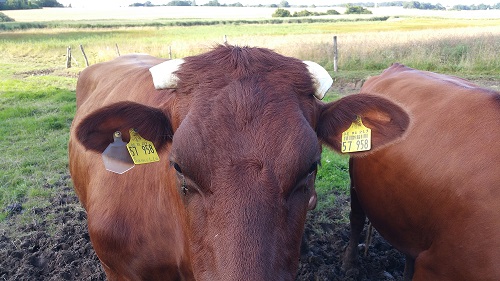 We research & develop products for the needs of our customers from a vast range of different industries; glass, ceramics, electrical and many more.